Dermatology and Beauty Medicine Practice
---
Doctor of Medicine Marek Antiszko
04-008 Warszawa
Al. Waszyngtona 45/51 lok. 133
kom. 604-106-999
tel/fax: 22 810-52-11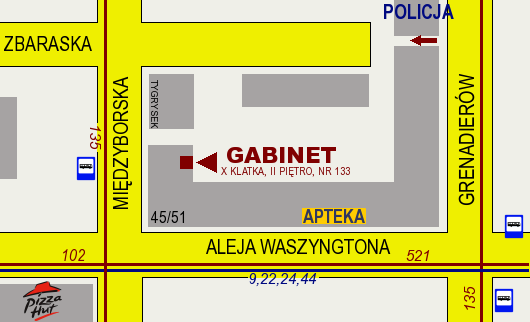 The practice is located in the building at the crossing of Aleja Waszyngtona (Waszyngtona Avenue) and Międzyborska St., vis-à-vis the bus stop, beside the Vet Clinic "Tygrysek".
The entrance to the edifice is located at Miedzyborska St., acceding right through the inter-building pathway, adjacent to the Vet Clinic "Tygrysek", or directly trough Zbaraska St.
Using the public transport, you can get to "La Beauté" by bus (102, 135, 521) or by tram (9, 22, 24, 44).